| | | | |
| --- | --- | --- | --- |
| Chilli, Chili, Chile - Peppers: Sweet and Hot | | | |
Geschrieben von: Frank
Montag, 21. September 2009 um 23:21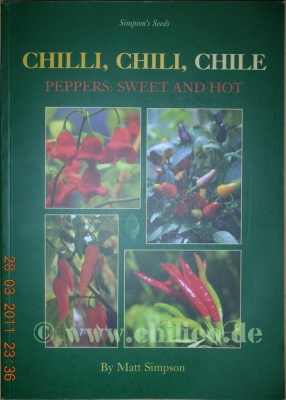 Heute habe ich ein Buch erhalten, das ich direkt bei Simpson's Seeds (UK) gekauft habe. Author ist Matt Simpson. Es handelt sich um ein Paperback mit dem Titel Chilli, Chili, Chile - Peppers: Sweet and Hot (zweite Auflage April 2008). Das Buch enthält leider nur wenige schwarz/weiß-Illustrationen und Fotos. Der Einfachheit halber zitiere ich hier das Inhaltsverzeichnis, bevor ich auf den Inhalt eingehe.
 INHALT
In the Beginning
Why are Chillies Hot?
The Famous Five
Growing Chillies and Sweet Peppers
Growing Problems
Pests
Seed Saving
My Favourite Peppers
The NAGA and Other Things
Chilli Fun
Glossary
Chilli Recipes
Der Autor bringt in verschiedenen Kapiteln seine persönlichen Erfahrungen ein und gibt Tipps und Tricks. Das gibt dem Buch eine einzigartige Note. 
www.simpsonseeds.co.uk
Aktualisiert am Montag, 28. März 2011 um 23:06